An article in a danish Bike magazine -written by me and the photos by Frank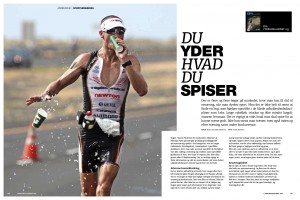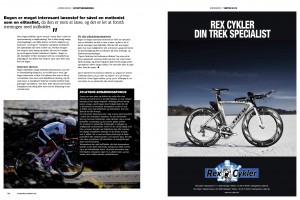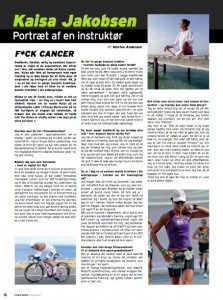 Portræt af en instruktør
Artikel in a local newspaper in Finland
Nærkontakt med kroppen

Jernkvinde. Når Kaisa Jakobsen i dag deltager i VM i triatlon på Hawaii, er det et trofæ i kampen mod den kræftsygdom, som hun har bekæmpet med hård træning. For sporten er hendes måde at komme i kontakt med sin egen krop på.
Erhvervsfolk op ad Alpe d'Huez for kræftsagen
Et hold på 36 erhvervsledere har trænet sig op til at cykle op ad det legendariske Tour de France-bjerg, Alpe d'Huez, på lørdag d. 27. august. De er første gruppe i et nyt fundraising- og forebyggelsesprojekt, som Kræftens Bekæmpelse har store forventninger til. Cykelstjernen Michael Rasmussen kører i front på turen.
De 36 erhvervsfolk har hver betalt 20.000 kr. for at være med på cykeleventen, Træd Til. Når de på lørdag cykler de 13,8 km. op ad Alpe d'Huez i Frankrig, er det kulminationen på det program, de har meldt sig til. Forud er gået måneder med to ugentlige fællestræninger med professionelle cykelryttere og instruktører.
– At cykle op af Alpe d'Huez er så hårdt, at det ikke kan lade sig gøre uden forberedelse. Derfor køber virksomhederne ikke blot deltagelsen i eventen. De får sat fokus på sundhed og motion igennem hele året, og vi stiller en række faciliteter til rådighed og arrangerer træning, foredrag etc. igennem året. Vi gør meget for at lave nogle store ringe i vandet, der sætter fokus på betydningen af motion i forebyggelsen mod kræft, forklarer Jimmy Trolle, der leder Træd Til-projektet hos Kræftens Bekæmpelse.
Saxo Bank er klart den største virksomhed på holdet med hele ti deltagere.
– Vi har altid haft fokus på medarbejdernes sundhed, og synes selvfølgelig det er vigtigt, at vi kan kombinere dette med at samle penge ind til kræftforskning og støtte kræftpatienter og deres pårørende. Temaet for Træd Til er, at man skal gøre det umulige muligt, og det stemmer godt overens med den filosofi, vi arbejder efter i Saxo Bank, siger Saxo Banks administrerende direktør og medstifter, Lars Seier Christensen.
Som en ekstra inspiration for deltagerne har den professionelle cykelrytter og bjergspecialist, Michael Rasmussen, sagt ja til at komme fra sit hjem i Italien for at cykle med op ad bjerget. TV2s cykelkommentator Dennis Ritter er også med sammen med en af Danmarks dygtigste triatleter, Kaisa Ilvesmäki-Jakobsen, som to gange har været ramt af kræft.
Alpe d'Huez projektet er opstået efter hollandsk forbillede, hvor 6.000 mennesker deltager og til sammen betaler 150 mio. kr. til kræftsagen i Holland. Kræftens Bekæmpelse håber, at projektet også vil vokse sig stort i Danmark.
– Vi har allerede nu 100 forudbestillinger til næste år, så vi er overbeviste om, at projektet er bæredygtigt. Til næste år er ambitionen at sende 200 derned og vi håber at komme op på 1.000 i 2015 og dermed få 10 – 15 millioner kr. til kræftsagen, siger Jimmy Trolle.
Ud over Saxo Bank er der bl.a. også deltagere fra virksomhederne Roche, Spies, Sepia og Rema 1000. Af de 20.000 kr., som en plads på holdet koster, går de 15.000 til Kræftens Bekæmpelse. Resten dækker udgifter ved selve turen.
Vedhæftede fotos er til fri redaktionel afbenyttelse i forbindelse med omtale af Træd Til eller Alpe d'Huez eventen.
Kontaktinformation:
Jimmy Trolle, konsulent, Kræftens Bekæmpelse, 35 25 79 67, mobil: 23 38 62 70
Morten Jakobsen, pressechef, Kræftens Bekæmpelse, 35 25 72 06, mjx@cancer.dk
Kære partner "Ironkaisa" vinder Dansk mesterskab 45-49 på OL distancen
"Jeg havde en superdag, og dit brand havde en dag i solen og øverst på skamlen !"
Jeg vil nu begynde træningen frem mod VM på Hawaii i oktober. Derfor vil der nok ikke komme så mange podie og presse fotos indtil da.
Jeg er dog stadig til rådighed om du har brug for mig ! Jeg er også ambassadør for Kræftens bekæmpelse på et helt nyt og spændende event, se www.trædtil.dk så dit brand bliver vist lidt frem inden det går løs på Hawaii.
Jeg vil også poste gode råd på www.ironkaisa.dk til alle dem som kører herhjemme i Challenge Copenhagen, og det plejer at give mange besøg og i perioden op til VM samt under og efter, er der altid run på, og jeg vil køre både video og blog som virkelig bliver godt.
Mange hilsner fra mig, og fortsat god sommer
"Iron"Kaisa igen på podiet.  Mallorcas præmiere på Ironman 70.3
"Iron"Kaisa greb 3rd-pladsen i 45-49 gruppen, i en tid som gav hende en samlet 28nd plads ud af 219 som gennemførte.
"Jeg er meget tilfreds, for jeg ligger midt i tung træning som del af min forberedelse til Hawaii i oktober."
Sagde en meget træt Kaisa i målområdet.
"Jeg vil altid gerne vinde, så jeg er lidt skuffet nu.
Men jeg har set og følt vigtige ting, som jeg nu vil arbejde videre med, og det er godt for mig, at vide at det er de rigtige områder jeg prøver at forbedre.
Jeg er også nødt til at respektere, at en del af mine konkurrenter i dag, kørte for at kvalificere sig til VM på ½ Ironman i Las Vegas, og de var 100% klar må jeg sige.
January 2nd, 2011
Ironkaisa wins Ironman Cozumel AG 45-49
IRONMAN COZUMEL havde udsolgt med over 2200 deltagere, selvom det kun er 2nd gang den køres. Ironkaisa lagde grundstenen til sejeren med den bedste svømmetid i hendes aldersgruppe, og oppe af vandet på 1.03 t, efter et hurtigt skifte, skulle cyklingen så give hende yderligere afstand, inden løbet.
Read the pressrelease (danish)
June 6th, 2010
Kaisa I-Jakobsen, from  Team Endurance Sport and Ninja´s, was beating them all in Hannover on Sunday in Wasserstadt triathlon.
In the new route in Hannover, of 2,0k swim 90k cycle and 21,1k run, was 45 years old Kaisa in as number 7 of all the women, with finish time 5.02.24.
She won her  AG 45-49, and was cyckling also from all the women in the AG 40-44.
The position got to be placed on the cykle, as she drove the 2nd best time of all the women with endtime 2.34 hours, and only got beaten by the winner Rebekka Essmöller.
"It was a bit cold morning, but luckily enough it stopped raining, and when I finally was on the cykle, the day got to be enjoyable.
Now I will home and work more with my training as I got a lot out of this race, and it will mean a lot in my training towards Hawaii.
Almost a perfect day, I am very happy" said Kaisa after the race.
November 2008
IronKaisa qualified for The Ford Ironman World Championship, Kona Hawaii, 10th of October 2009.
With a third place finish in her age group (45-49) at Ironman Florida in November 2008, Kaisa Ilvesmäki-Jacobsen secured herself a spot at the start line at the Ford Ironman World Championship 2009.
"I knew before the race that the winning time the last three years in my age group had not been faster than 10h 40min, so when I exited the water as planned a little over 70min, I knew that I had my work cut out for me. I settled into my rhythm on the bike straight away and got good signals from my body and my legs felt great. After a fantastic bike leg all I had to do was to hold it together on the run to cross the finish line below 10h 40min. After crossing the finish line in 10h 39min I knew I had given it all I had on the day. I was totally empty but SO happy." Kaisa said the day after the race.
In Kona, Hawaii in October every year all the best triathletes in the world, pros and age groupers toe the start line to battle for the ultimate prize in the sport of triathlon. Every athlete has to complete the 140.6 mile long course without outside assistance within the time limit of 17 hours. The race consists of a 2.4 mile open water swim, 112 mile bike ride and 26.2 mile run. Hawaii's strong cross winds and hot and humid climate makes the race even harder. The task is physically very challenging but at the end of it all, it is the mental strength and commitment that will bring you across the finish line.
"I am already looking forward to the race next year. The best of the best from 22 qualifying race all over the world gather on the Big Island for the big battle and I have deep respect for the race and my competitors. I am not going to Hawaii just to participate. I will give it all I have and a little more. Right now I am enjoying my off-season to gather strength for the hard training that I know will come next year. "
In October 2008 there were 15 persons from Denmark in total, at the start in Kona. 2 of them were women and one them got to the finish line.
You can read more about Kaisa's road to Kona, Hawaii, and her training, as well as get tips for your own ironman training on this website.
And you can contact Kaisa for more information on kaisa@ironkaisa.dk
Ironkaisa in the media: