It is a month ago I was in Hannover getting through the 2/90/21.1 race, and the restitution from the race went great. The first week was light training and recovery from the race. Since the recover week, I have had 2 weeks of big amounts of training and also heavy weight training. This past week was again recover , and this is certainly needed, as I got really tired from the 2 hard weeks. how do I evaluate this?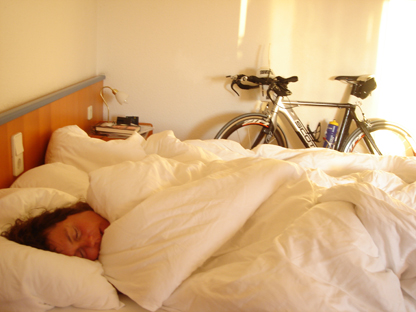 1. I measure my heartrate in the morning, if it is higher that normallly, it means I am not ready for the hard training yet
2. I check if I can control my heartrate, can I in a controlled manner take it form 100 to 150 (my treshold), then I am fine. If not, it means that I am still tired in my body/muscles
3. If my sleep pattern is very unregular, it is still a sign for me that I am nor fresh yet
In training, no matter in which level you train; top, medium, or just for fun, it is important to listen to your body, and see the signs of overtraining. If you feel tired, even you sleep 8 – 9 hours a day, or you are not really "burning" to go for your daily training pass or you might be irritated without any reason, then it might be time to keep 1-3 days off from training. Try like that, and feel for sports again! Your condition is not going down in 3 days, but recover helps it to go up!
Summary:
1. Listen at your body, dont train as it is a "routine" for you
2. If you are busy in the work with more weekly hours than normally, cool down with the amount of training
3. Remember the balance ; in your nutrition, sleeping, training