Week is gone and we are home again from a great training week on Mallorca; if you ever plan to train in a better climate, and in the mountains, keep Mallorca in your mind, but……
I normally go to Gran Canaries in marts/april, as the weather is a bit of a gamble on Mallorca, it can be good, but if it is not so good, it can be really cold in the mountains, and specially in the northern part of the Island, the weather can be really bad if a lowpressure comes down from France/Alps.  Remember, I was living on the island for almost 2 years, so I know.
This year Mallorca had a rainy April, which means that water did not really get warm enough in the sea yet, so we decided already home not to take the wetsuits with but swim instead in Son Hugo in Palma, a swimming center with 50m outside and inside pool. And that was great as I got some good swimming done.
All and all the week went fantastic; the weather was warm and sunny, the training better than ever, company could not have been better and the food was marvellous see http://www.simplesite.com/PieroRossi Restaurants in Alcudia old town and main square. Food is great; fish, pasta, tapas, anything, and the most important; it is healthy; even allioli is made of oliveoil instead of egg yolks, and has a lot of antioxidants: garlic:-)
As told before the main focus for the training was cycling, and this is what we also did: 450 km and around 7000 heightmeters. I was also this time beating some of my PB times from the year before, so this means good for the summer!
Running was good, but mostly done like brik (=run after the bike) and with focus on the frekvens around 90 to 100.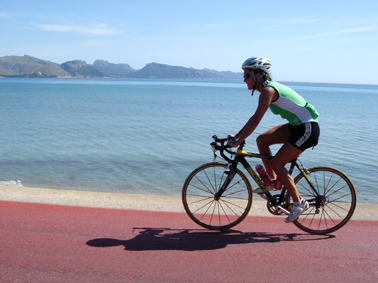 My swimsessions was with fokus on some long 3,5-4,5 km passes. I still focus on wolume insted of speed, as the race in Hannover is a B-race for me, and I need to build on my swimendurance.
Even I dont always like to focus on the training hours, I want to write it down this time, as it got to be 28-29 in total for the week. It is not so much the amount of hours, but also how you reach them. Biking in the mountains is harder than flat, and also the fact, that i normally ride alone or with max 1-2 friends, means a lot, compared to a riding in a group of 6 to 10 persons, where the draft gives a much more uneven ride I think.
In total it  shows that I have got to be stronger, as I have a good feeling in training. So here you can see, even with the years you can get stronger; even it is a fact that from the 40's you start to loose muscle cells, you normally get weaker and the first signs generally of you getting older are being seen:-( But not always, if you start late your "sports career" and keep on your training, and ofcourse your food, sleep etc. you can get good results!
We spend half of our week in Alcudia, in north and the last 4 days in South side, being a bit closer to the mountains, to get faster to some excellent biking.
All and all a great week, and until today sunday I have taken the training a bit easier, to get some power and energi for the body. It is a good idea to do some hard training followed by some easy weeks, as during the easy weeks you can get slept a lot, spending time with freinds,having more time even on your work, and your daily routines. Now I got to go, I have 1 hour easy bikeride, and the a 2 hours easy brik-run…… see you out there.