It is always important to speed up the recovery in the best possible way, to get  your body into "normal rhythm" soonest possible. You might not  want to look like this all the week

: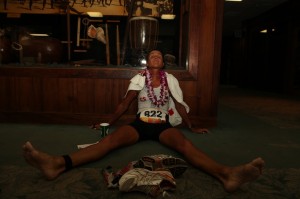 Congratulations, you made it, and can call yourself now an Ironman. Jubii!!! Long training period behind you, and a race, what an experience and what a feeling you must have now. If not yet… I promise you, tomorrow you will, and tomorrow you are most probably already planning also your next race… you get caught… But you migt also get a bit empty feeling. All your plans were about the Ironman, and now it is done, so what now. Enjoy your life, do other things than training, I am sure you will like also that


The period in your training year, that you have in the front of you, is important now; it is important to  recover, and recover well. The next month can show a lot of  of the coming year if you did a good recover or if you skipped it…!
Try these tips, they are very usable, and can help your body to cool down of the stress it got when you did the race:
Raceday evening: cool down your legs, if you already put your legs into the sea, super, if not, you can still do it, of put them into a cold bath/shower. I tell you, it is easier to walk tomorrow if you do this


Eat… and eat, anything you feel like, just eat

   But, just take some protein, even a shake or a maxim protein drink if you have.
And drink water. Your body needs the water to recover well.
Take the couch and lay with your legs upright, let the stress and  toxic run out from your legs
And get a good night sleep, if you can. It is normal not to sleep well after a raceday, so if you feel a bit sleepless, it is ok…
Tomorrow and the rest of the week:
Eat healthy, fresh food with lots of vitamins and minerals, good proteins are important for fast recover and muscle cell reconstruction, and ofcourse remember to hydrate well
Massage is super, twice a week. Do some walks, and maybe take a couple of running steps, only that.
Do some light training like swimming half an hour, and riding a bike like an hour… stay cool…no more training, all the week.
Do everything that you did not have time all the year so far

Like spend a lot of time with your family and nearest, see with your friends, enjoy the last month of the summer
Still… 2 weeks after the race still don't run. Running is the only of the 3 sports that is very hard for your body still days after the race. So don't hurry with that, just enjoy your time, and do "soft motion". And if you get really burning feeling, that you want to go for a run, go for very slow walk/run session, only that. You could also ellipse train in the gym, or aquajog in the water, to keep the running muscles just a little bit in action if you feel like that. But no stress, a month nice and easy, and relax
And as you have a lot of time suddenly, pass by my website, because in 10 days you can read about the coolest training camp possibility for the springtime on Mallorca, that will take you to the next level in you hobby, so keep in touch!
And soon it is time to make new plans for the coming year… Hey cool, you are an Ironman!!!