I REALLY  PREFER TO DO PARTLY MY CORETRAINING WITH TRX, FANTASTIC WAY TO GET THE CORE STRONG FAST AND EFFECTIVE. I ALSO TOOK THE EDUCATION TO BE A  TRX CERTIFIED INSTRUCTOR, AS I FEEL IT IS IMPORTANT TO KNOW EXACTLY THE MOVEMENTS, AND IN THE CORRECT WAY.
CHECK DOWN HERE SOME OF MY FAVORITES:
TRX Suspension training exercises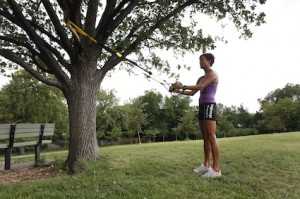 start straight up, one leg at time backward.

Start straight up, one leg at the time front, keep your core tight!

start position straight up standing, down where one leg crossing far behind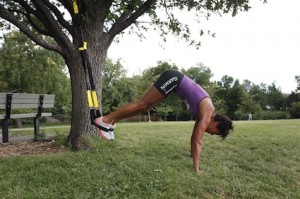 And you are done.
This workout lets you work through all your body, and finds the small muscles, you never knew you had

You will know what I mean the day after.
Remember when doing the exercises, to keep your core tight, work with it, and it will get strong, not tomorrow, but in a month, if you work at least 3 times a week, 30 min at the time. Repeats 30/45/60 s or 10-15-20 repeats.
Have fun!!!!!
A new workshop 26/nov see more here:
TRX Suspension Training Workshop
A short videoklip from one of the workshops

Dont be too critical when watching it … :-)http://www.youtube.com/profile?user=TRI4Triathlon#p/u/0/HK22juF1Z8M
New workshop 19/11!!
TRX Suspension Training Workshop
TRX Suspension Training Workshop 
Lidt mere om TRX Suspension Training:
–       et unikt træningsredskab, som bygger funktionel styrke i hele kroppen. I TRX arbejder man med fleksibiliteten, core stabiliteten og balance samtidigt. Alt dette betyder meget i mange sportsgrene samt i "daily life".
–       Særligt velegnet til coretræning. Mave og rygmusklerne er med i alle øvelserne, men specielt små muskler som i normal træning ikke er så lette at aktivere, kommer med i TRX-øvelserne, derfor er udbyttet stort.
–       Kroppens egen vægt bruges i alle bevægelserne, og ved at skifte kroppens position skifter du belastningen i øvelsen = alle kan være med.
–       tryg og hurtig måde at udvikle sin form
–       let og brugervenlig, tager lidt plads (vejer ca. 1 kg)
–       kan bruges ud i skoven, hjemme, gym etc. Mulighederne er mange
–       træner mange muskler samtidigt, ikke kun 1 muskel gruppe
Vi ses til TRX Workshop!
Med venlig hilsen Kaisa Ilvesmäki-Jakobsen
Master i Sports science
Certificeret Løbeinstruktør Pose-method.
Certificeret TRX Instruktør
Certificeret Ernærings konsulent & træningsekspert
Bikefit Instruktør
Aktiv indenfor Ironman, VM podium placeret, på vej mod VM 2011