It is a while ago I was updating my post last time, there are several reasons for that, one of them is that I have all the spring had running problems
And believe or not the problems are still not over, but at least now I can write about this, as I have been working mentally to be able to.
Part of beeing a triathlete is unfortunately also being damaged sometimes. Normally I have been the lucky one without any bigger problems. But the lastest months I have been suffering more or less of a running injury, which has given me big problems for my running training. The injury mot of the runners or triathletes know: hamstrings, gluteus area…
But even it can sound strange: when having a running injury, you also learn a lot:
– you learn to be happy about the training  you are able to do
– you learn to appreciate how fantastic it is to be healthy
– you understand how fantastic it can be to run (when you can run again)
– when a triathlete, you have more time to focus in 2 other diciplines: swimming and biking
– it is important to be positive around the future: I will run again soon, and go for the goal/dream
– it is important to not let the negative thoughts fill your mind
But what is positive; I feel better in a pool and on my Scott Plasma, than ever!!!
One more thing, you might get something from for yourself; aquajogging is a marvellous way to keep up the running muscles when injured, but also for restitution! Try it, and see you in the pool! And by the way, if you need a belt, contact me, I can help you to get one!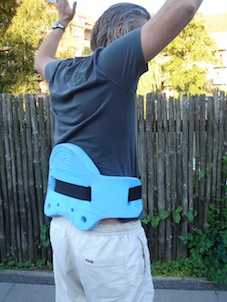 Stay tuned, I'll be back soon…