A healthy and nutritious breakfast
I think that breakfast is my favourite meal during the day


A delicious plate of "Special hot oatmeal" together with ACAI powder or choice of fresh or frozen berries, topped with almonds or walnuts, or raisins and dadels, or banana…together with a plate of your choice of fruits, and a great cup of good "caffe-latte with soyamilk"
Try the special " Hot oatmeal" like I cook it:
Buchwheat flakes, and groats
Spelt flakes
Linseeds
Millet groats
 – the evening before put these ingredients into a casserole and add some water, let them stay overnight. This is a good way to keep the porrigde even more nutricious and saves also your time, as short cooking time


 – in the morning, just cook for 2 minutes with some salt
Add eggwhite for proteins
Add Udo's Choice oil for omega 3 and 6, dont cook/boil with the oil
15th of November  Beetroots and sweet potatoes
Here comes one of my autumm favorites. Actually not only mine as everytime I ask from Frank what is his wish for the dinner, he says this one

Try it and eat it together with some fish/chicken/meat. Sometimes I add fish in the end on the vedgetables, and let them all cook at the same time.
Beetroots, peel and cut
Sweet potatoes, peel and cut
( Leek if you wish)
Ginger, as much you like
Garlic, as much as you like
A bit chili
Tamari soya sauce, drop on 1 spoonfull
Oliveoil, drop 1 spoonfull
Bake around 60 min in 200 degrees. I start always baking the beetroots first, they need a longer cookingtime, so let them be 30 min in the oven.
After adding the rest, remember to mix the casserole every 10 min.
Hmmm tasty

6th of July;  Salmon salmon salmon
Yes, i love salmon

And as here in Denmark, we are actually crazy for grilling on the open fire during the summer times, we eat salmon more than other seasons of the year.Try following, a bit different way to prepare salmon:
Marinade:
– teriayki sauce
– lemon
– chili, fresh if possible
– garlic
– ginger
Let salmon marinade in the sauce for 2 hours, and grill it direcly on the grill
Hmmm, delicious, and eat with some nice fresh salad
8th of November  "Fresh and healthy Mango shrimp salat"
As the evenings are getting darker and longer, it is time to experience some new healthy food receipts, try for example this. I dont write the amounts, as you can decide yourself how much you want to eat, or for how many persons you prepare. Following is more or less for 2 persons:
– shrimps (peeled, i use normally the frozen ones)
– 1 mango, cut into small pieces
– (red pepper cut in pieces)
– 2-3 garlic pieces
– a piece of fresh gingember
– a bit olive oil
– a bit tamari soya sauce to give the salty taste
– fresh koriander
– some chili flakes
– some pumpkin seeds
Delicious salad, which you can enjoy with homemade bread, as an appetizer, as a meal, how ever, enjoy Buon Appetit!
 29th of July "What's for lunch"
I am always hungry for the lunch, and eat a great, big and healthy lunch in my workingplace www.sos.dk. I am always the first one asking my collegues to go for some food

And they always can wonder that I can eat so much, and not  gaining weight (and look anyway like I do, without being big and fat)… And I can tell them once again; "But the secret is in the food, I just go for the quality". I normally fill my plate with lean food, meaning salad leaves, tomatoes and different other greens. I add some nuts and seeds, if there is some and goat cheese (feta), and I almost every day eat fish in one or another way. I try to avoid the smoked types as they have plenty of non-healthy additivies, not good for you health. And when there is a choise of salmon, I could eat the entire fish

Salmon is absolutely my favourite one; in the oven, on the grill, anything except of  smoked and fried.  But what about the dinner then. I normally dont have time to cook a big dinner,  so most of the times it gets to be someting very simple. There are ofcourse some exceptions like, if we go out for a dinner with some friends, or have an invitation from some of our friends to dinner by them. Unfortunately this happen just too seldom during the week, as the work, training, sleeping fills the weekdays.
So my dinner can be:
– salad made of red pepper, tomatoes, springoninon, garlig, ginger, Udos Choice food oil, a bit of Tamarin sauce, and a piece of ryebread (without wheat!!!)
– basis as above + some white cheese (feta, goat)
– add some hummus
– add some shrimps
– add some fresh spices, like koriander, persille, mynthe
– add some cooked and smashed sweet potatoes, spiced with garlic, tamari sauce, chilipepper
– carrot soup, a favorite receipt from my mum

and again very simple with cooked carrots, and smashed. Add boiling water until soup-alike, add some spices, and tamari sauce for the salt, add spices after your taste, like garlic, chili, etc.  and a bit of oil to give more full taste. Enjoy with shrimps and spelt bread, mums

30th of June "Coffee -good or bad"
For me it is important that when I drink coffee, it has the best quality, and the best taste. I prefer always a "caffe latte" either with soya milk or skinny milk for the morning. During the day I am fine with an espresso, or a strong cup of nescoffee either with or without coffein. I defenately dont like filter coffee… that is just not my taste, even it is very "danish" or scandinavian. Home I have the real italian way of espresso pan, the one you screw together, having water in the bottom, and coffee powder in the middle, it makes absolutely the best "homebrew".
Another issue is, how much is good to drink coffee? Someone says that it takes your nightsleep, so max ??? cups a day, somebody prefers to keep a break of coffee drinking before a race, like 2-4 weeks, to have the optimum effect of it in the race; and that is : getting more power. I never did this really, as I like so much a good cup of coffee. I never really good feel either the "power efect" of coffee. Last year before I did the Ironman in Florida, I reduced the amount of coffee I drank during a day into 1 cup in the morning. This I did to get a better night sleep. This I definately got


All and all the amounts I drink are not huge, normally max 3 espresso a day… from the marvellous coffee machine we have standing in my work (www.sos.dk). When we were living in Italy, I got to be more into the amount of cups, as italians are really counting the amounts: 1 in the morning, 1 after lunch, 1 in the evening, and this last one  should preferably be "decaffeinado".
Anyhow, even coffee tastes good, I know, that it is also "poison" for your body, so I have reduced the amount in a day into 2. In try to drink tea instead, and it also tastes good, if you find the good ones. Frank is a maestro in different sorts of  teas, so I just ask him, and he finds the one for the morning with coffein, and for the evening without coffein

This is important specially the mornings when I train 2-3 hours, and dont want to have a coffee first, but no headache…
17th of June "Eat after your bloodtype"?
It is around a week since the race in Hannover, and this week I started the "real" training again. I felt pretty good all the last week, even 2 days after the race I did not have that normal "after-race-feeling" being tired.  But anyhow we decided with Frank that the days after would be "nice and easy", just to prepare myself for the coming training afterwards. Week passed well, and now the training is on again.
I have been a bit surprised about the recovery after Hannover, and found out, what I made different since last years races. I changed my nutrition to be more bloodtyped focused… Now some of you might have a laugh… and say nonsence…yes, this is what I also said before I was talking with a homeopath in Norway, and a cykling coach for a french youth national team, and reading a book of Peter D'Adamo

I tried, and I felt better, and I continued. it is all about eating well, and being well, feeling good, and healthy. Again; having body in all the ways in balance. And when you do this, you can train all you want, and you still feel good, actually great!
What is it the about:
Try to find Peter D'Adamos book, and read it, try the diet for a month, if you feel better than before, it works, if not… just go back to where you started, or to a 3rd way?
The special thing is, that some food is like medicine for you, some food is neutral, and some is directly bad for you.  You will get some surprices I tell you.
so: If you want to see if you can get your body even more in balance, and have better traning, energy, sleep ect ect, try this:
1 – get the book, read it
2 – get to know you bloodtype
3 – tell you surroundings that you will try this, why and what it can mean to them, in the testperiod, and also what they get out of it, if it works.
4 – start, and go 100% for 3-4 weeks. It doesnt help, if you do it halfway, then you cannot use it, you need to commit for that period.
5-  feel, and have fun.  More energy, better digestion, better sleep, more stabile mood and less infections and pain can be the reward
Good luck, and life is good, Kaisa

22nd of May You are what you eat
This is something you might here lots of times, in Ironman this is the only way to keep control; you have to eat well to be able to train all those amounts and keep your weight under control. It might sound strange that even a person trains all that amount, he has to look after the food and amount what he is eating, not to gain weight, but yes, this is how it functions.
My good friends, collegues at my work and others who dont train 15-25 hours in a week might wonder how much I must eat to keep going. Or there was one of them who said: " I guess that you cannot  eat or even drink wine, as you train for Ironman". There are all kinds of mythes of training for Ironman, some of them are true, but some of them definately not:-)
Lets say in this way; I have been lucky in the way that I never  liked the food that was fried, stir-fried or "normally regarded as tasting good". I always have been a good friend of vedgetables, fruits, fish, more or less lean food. When I still was living home, and was a small girl, we were eating carrots while seeing TV, not chips, might sound grazy, but this is how it was. So I can say thanks to my parents for the good eating habits today.
But I still did not answer into the question how much I eat when in training period. Here you get an example of one of my days:
Morning starts with a porrigde done of oats and other different fiberrich flakes, fruits and coffee. For the lunch in the office, I have a rich buffet of vedgetables, salad, fish and some ryebread. The  lunch I normally eat in my job in www.sos.dk and it is a marvellous lunch! During the day I get some snacks in form of fruits; apple, banan etc. For the dinner I dont cook anything, but make myself a salad made of vedgetables, some hummus or feta cheese or goatcheese, or fish again and ryebread. I try to avoid wheat in all the forms, as I dont feel that it fits me, but makes me mostly feel swollen and full

There are ofcourse exceptions in how my day might go food wise, like sometimes we might eat sushi in the evening or go out for a dinner etc. 
I feel that I get a lot of energy of the food I eat, try it: brown rice, guinoa, spelt, dark pasta, vedgetables. Proteins are coming from cheese, soya, beans, nuts, fish. Fat come from pure fat like oils: olive, raps, fish. Some multivitamine pills keeps a doctor away, and I feel when following this "diet" that I have a strong body: fit for Ironamn training. And if I feel like getting a bit sugar, I jump on a bike, or do a run, and crab some energibars or gels, and get all the sugar in I need!
Try for a week a following diet, see how you feel. This is what you can eat:
– all vedgetables
– all fruits
– max 1 slice ryebread (without wheatflour) a day
– soyamilk/tofu
– fish
– sweet potatoes
– hummus
– max 1 glas redwine a day (if you really want:-) )
– nuts like almonds, walnuts
– dry fruits like figs, dadles (max 3 a day)
– goatcheese, feta is ok
– dark chocolate (min 70%, but not a hole package:-)
– dark rice, pasta, guinoa is ok
– coffee in reasonal amounts
– tea (preferably green tea)
So all this means no mixtures of food, all must be clean, you must know what you eat, no sweets, candy, cakes, coke ,  etc..

If you want to know more, let me hear:-)
If you want to know more, let me hear:-)
24.april "The Secret of Ironkaisa : Cinnamon Buns"
I like to eat healthy and I generally like food, that does not taste too much of butter and cream. Sounds maybe wiard, but yes, this is mostly always how it was. This is why I learned from my sister to make the following buns, and continued making them for years. Could not be healthier nor could taste better:-) Njam. You can enjoy them in the morning, as a aftaernoon snack, with honning, or butter, or just like they are, try!!!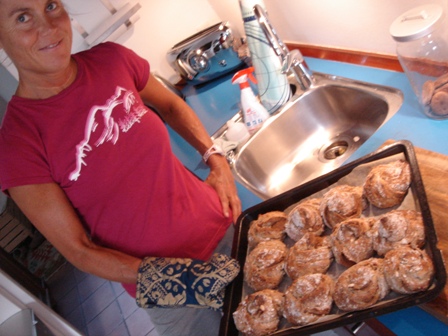 Kaisa's healthy cinnamon buns
8 dl water
25 gr yeast
1spoonful cardemomme (the coarse one)
½ dl honing
½ dl raps or oliveoil
1 spoonfull salt
200 gr cchopped Almonds (cut in blender, can be left coarse)
1 – 1½ kg flour; preferably everything else except white flour


Blend all the ingredients, and put so much flour that it doesnot stick on your hands too much anymore.
Let it stay for an hour.
Bake the batter into a flat 4 cornered plate. Put some cinnamon and vanilla on, and bake to buns as you like:-)
Bake in a 250 degree own, until they have a nice light brown colour.