I was 34 years old when I was hit by cancer. It took about a year from the date of diagnosis,  until I was back on my feet again. I chose to focus 100 percent on all the things I could still do – and I was lucky, that it was the things, that I love to do, that was still possible.
I have always loved sports. Especially when I can train outdoor – it is both challenging and stimulating for me. Now my sports got a new meaning, it was to show that I had won – won the battel against cancer.
So I started to train for Triathlon. To emphasize my mission, I chose to train for the long and original Ironman distance 3.8 km of swimming, 180 km of biking solo and then just a full 42.2 km marathon run. That seemed to be the challenge I was looking for. I joined the Copenhagen Triathlon Club and started training.
My first Ironman was in June 2001 in Austria. I crossed the finishing line after 13 hours, I was "flying" and had given 100 percent of myself and was totally exhausted.
Now i was also heeled from my mind. If i could do an Ironman, then i was strong, if i was strong, then mabye i had really beaten the cancer.
Life was great, I was 38 years old, and together with my husband I moved to Italy to work. After a year we moved to Spain to take up new jobs. And then happened, what should not have happened.
The cancer was back. With more force. I had surgery to remove the cancer from five different places. When i woke up from the operation, i feel that my whole life was destroyed.
I had come to the follow-up visits as I should, I had been living a healthy life, been training and 5 years had passed. The doctors had told me "if 5 years pass without any symptoms of cancer, then you are fine".
I will not let it defeat me, period !
It was in the spring of 2003, I had surgery and treatment, and a year after I was on my feet again. "Your fantastic physical condition has helped you a lot, without it, your trip would have been very long" my good doctors told me. I made a decision, I wanted to win this battel, so i  registered for an Ironman and moved back to Copenhagen, started a full time job, and started training again.
On 16 of July 2006 I crossed the finishing line. I took me 11 hours and 9 minutes, I was stronger than ever.
"This is perfect, if I can do this, I am definitely well" I was talking to myself when I, totally exhausted, was sitting in the goal area.
I spend a period, wondering what I had found deep inside myself, in the deep place, that we so seldom travel.
I had found something that could help me win over the cancer, a lifestyle that would keep me focused, and also a lifestyle i loved, training and outside life. I started to plan my next Ironman race.
So in august 2007 I crossed the finishing line in 11 hours and 15 minutes, I was 43 years old, had 3 Ironman races behind me and was more experienced. Cancer does not have a chance anymore, I was thinking when I was again able to do what I really loved: to train and challenge my body and soul in the wonderful nature.
So now it was time to have fun and put the cancer down forever. So i chose to try to qualify for Hawaii Ironman, the world championship, that is held once a year in Kona, Hawaii.
One of the hardest one-day-sports-events in the world. Great, what a challange, and the lifestyle and training that would take, wold beat any cancer-cell trying to grow !
Qualifing for Hawaii
I signed up for the Ironman in Florida on 1st of November and this time I wanted to win my age-group. And to qualify for the Ironman in Hawaii on 10th of October – on my very birthday.
Can a person who has had cancer twice qualify for the world championship? Yes, if she can finish the race in about 10 hours and 40 minutes, and is stronger than ever.
I raced to 10.39, and got a 3rd spot, and excatly a ticket to Kona 2009. Happy and stronger than ever.
Racing in Hawaii
Can a person who has had a cancer twice win the world championship? Yes, because cancer is not to decide for you, but you just have to focus on what you can do, and believe that it is a race that can be won.
Where there is a will, there is a way. Its all nice words, said many times before by many people, but i walk-the-talk !
October 10th 2009 Kona, Hawaii, I came to the goal in time 11.19, and got to be number 5 in my age group.
The only nordic woman on the podium. This is it, I did what I came to do! give all i had on the day.
And at the same time I decided to return, and return to get even a higher spot on the podium.
Most of the year 2010 went in recovering from an injury, that started to bother me in December 2009. In Danish Championships long distance 14th of August I thought I was  ready, but had to go out from the race after 5 km run…
I had signed up for Ironman Cozumel 28th of October, and finally I was there, I lead the race from start to the end.
Leading the race from the beginning and coming to the finish line as number one in my age group, and at the same time with a ticket to World Championships in 8th of October 2011!!!
2011 went mostly in concentrating for my training for Kona in October. Went to Abu Dhabi, and won my agegroup in the long distance, in 37 degrees heat!!! Got to race on Mallorca in 70.3, and was number 3

Had some shorter distance races in Denmark, and finally head against Kona.
This time it was something new to race in Kona, as I new the route and new also some people on the island, so I was mentally well prepared, and ready. Many tuff ladies in my agegroup… But I was pushing through the race, as this was what I wanted, and made my PR in Kona 10.53, was 5th in my agegroup -again

– the only Nordic woman on the podium -again

And made my decision…want to come back!
So the new plan is to race again in Kona in 2013 in the new agegroup 50-54. That is the goal of the year, and I go for… no more no less podium place…want to be better than ever

I am a proof that it can be done, You can beat cancer, dont become a victim become your own hero !
This is my mission, to show you that you can do it also, not to show you, that i can do it. Got the point ?
Good, then put action behind, and see you out there.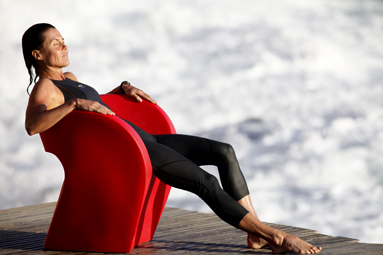 Who is "IronKaisa" ?
I was born on 10th of October, and turned 47 years old in October. I was born in Finland and spent my early years there.
Later on I have been living in Italy, Greece and Spain during summer, and in the Alps during winter.
In the last years I have been living in Denmark, Copenhagen. I have been together with my Danish husband, Frank, for the past 20 years.
I have a university degree in Physical Education, from one of the leading sports universities in Europe, Jyväskylä University in Finland. Futher i am a sportsnutrition consultant, TRX Instructor and Lev. 1 Pose Run Istructor.
Sports background in brief:
Athletics: Heptathlon, with a couple of national top 10 rankings
Summer: Running, mountain-biking, road-biking, swimming, weight training, windsurfing and rock-climbing
Winter: Downhill skiing, ski touring, mountain climbing, ice-climbing.
In the past years I have been concentrating 100 % on triathlon, and finally this focus has started to bear fruit.
I train and live from a method, that my coach has developed for me, it´s called 10-4 Life, and is the winning formular for me.
My mother says " Since a small girl nobody never could stop you in doing what you did, you just did what you felt like. I can see that this has not changed in you, you are still like that"