Yesterday race was a good race. And today I got my spot to Kona. I feel very lucky and happy.
It was not what I was thinking at all 3 months ago.
Coming here, I was sure that my main focus was to get one of the few qualifying spots for Hawaii next year.
That was the plan long time ago.
But after the accident in june, that put all plans out of direction, this race became more than just a race for me.
It became the comeback itself. The way out of feeling like a random victim, from the car accident.
And therefore I made 2 goals.
1st was still to get the Kona ticket. This is the dream, as I still wanted to give it one more shoot for the titel in Kona.
As the race is Florida, and the bikecourse is flat, there is one element of draft, that I cannot control, and that I refuse to give into myself. This I have seen many times. Supertimes being made by other women, in races where drafing or even the course beeing to short etc, and then just to fall to the ground in Kona. This is one of the reasons I love to race Kona, it is one of the places that gives the most fair race. And so….there it is.
IF some was going to draft, let it be, I would race my race, and see where it would get me.
2nd was to see if the shape I had in maj/june, and all I had done after that, was done good.
To see this, I would try to go for a sub 10, which for me, is really a supergoal, and that would be a risk to do, as you always risk to go too far and deep in your body, to early in the race, and then to loose it all.
Looking at the ocean in the morning, I knew that i had to concentrate 100% to have a good swim.
2-3 lines of 1-2m breaking waves was the startline. And a we would have a run to the beach half-way, these waves would have to be crossed 2 times. Not so good for a sub 10 try, but time to be smart, and think.
I placed myself good at the start, and found good feet to hang onto. I ended up with a 1.05 swim, and could see that I took my bike in T1(transition) as one of the first. Good start. Good.
I took the good feeling with into the bikeride, and sticked to my plan, steady, and saved energy for the long straight part going home, as the weather had promissed light but headwind on this 30k long stretch.
It worked, and the position that I have got on the bike, that I used the period after the accident to fit into to, was just right.
The new POC helmet was not bad either !!!
5.15 and ready to run.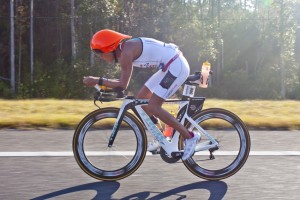 Well, the good thing about Ironman racing is, that you have lots of time to feel, and that reality always comes by to pay a visit during the run.
The long period over the summer, where my running was hit hard, made sure to remind me, that continuously training, is the key to all big results.
I keep pushing hard, and as the sub 10 chance slowly went away, my focus went back on the Kona spot.
One girl was gone. The 70.3 Las Vegas worldchampion, looked like she had found a way to keep the form all the way to Florida, she was out of reach.
I knew that there was 160 women in my group, and my coach had said, "there will be 2 spots, just go for it. dont think, just go"
I have done a few bad races. There is moments where you start to loose it, and you are just on the limit, of keeping control of what if your next important move. Energy ? water ? stop and stretch before a cramp sets in ?  try and stay with the girl that just passed ?
Then I woke up, when Frank shouted, "stop thinking, just f…….run", and then I let go, and just found a rhythm and kept it to the line 10k later. Sometimes when you think too much, you get so tight in your movement, and Frank saw that, and I just needed to relax and run.
Running over the finish line was mixed. I looked up, i saw 10.16 was the time, my body began to fill up with pride, and moments of the training came into my mind. somewhere in my mind was also…..that I was second.
Shortly after, and today, I know one thing. I am stronger than ever. I know what to work futher on, and…..you cant win them all.
I got what I came for.
I got my Kona ticket.
Today is a day ,where I live in that nice space, where you have reached a dream, made it real….and before my mind starts thinking about Kona 2013.  I would call it wonderland. Is is a very relaxing place…..
I hope you have had time to relax.
And I hope to see you out there.